Wide Range of High-Performance Heaters
OLW offers a range of high-quality outdoor heating solutions, including Bromic Heaters. These heaters are designed to provide optimal warmth and comfort in outdoor spaces, making them perfect for patios, decks, and other outdoor areas. With their sleek and modern designs, Bromic Heaters not only add to the aesthetics of your outdoor living space but also provide efficient and effective heating.
The Perfect Addition to Your Outdoor Space
With their innovative designs and advanced heating technology, Bromic Heaters from OLW are the ultimate outdoor heating solution for any home or commercial space.
The Eclipse Collection presents a unique heat and light solution that combines functionality and ambiance, making it an ideal centerpiece for luxurious outdoor areas with its contemporary and practical design.
The Platinum Smart-Heat™ Collection is an exceptional heating solution that combines performance, reliability, and aesthetic appeal, offering both gas and electric options. This award-winning collection seamlessly integrates into design-focused spaces with its unmatched quality and style.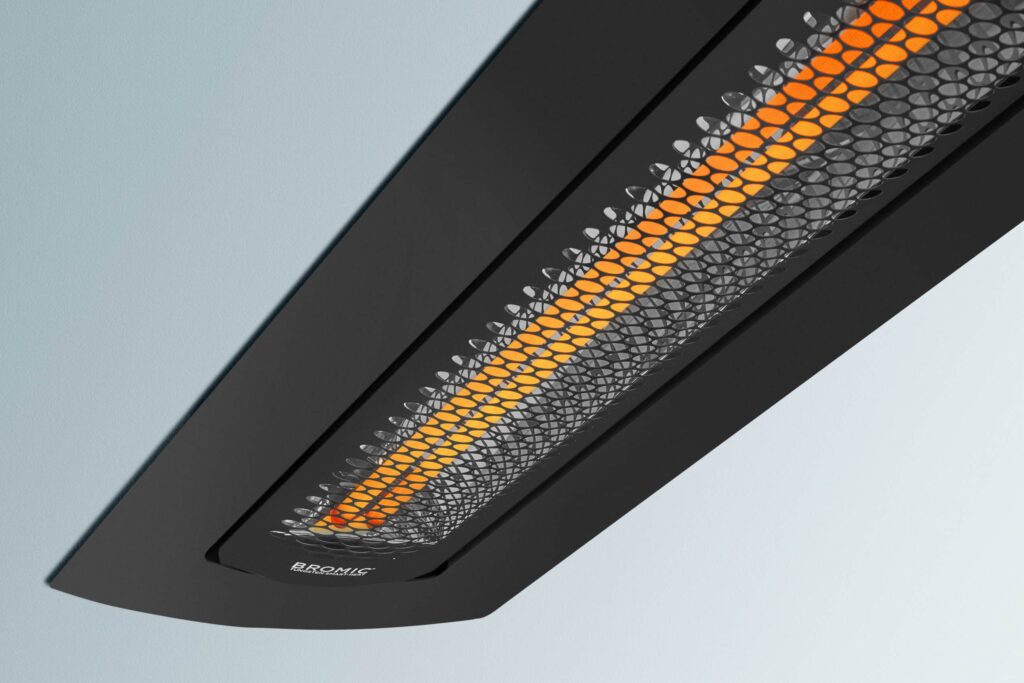 The Tungsten Smart-Heat collection from Bromic is a standout among their product offerings, recognized for its excellence. This collection boasts a robust stainless-steel build, powerful directional radiant heating, and a timeless industrial design aesthetic.
Crafted from premium AISI316 Marine-Grade Stainless Steel, the Platinum Electric Marine heater series is meticulously engineered for exceptional durability, capable of withstanding the harsh and corrosive conditions found in coastal and marine environments.
Effortless Outdoor Heating Management
OLW carries a wide range of user-friendly and innovative Bromic Controls that are specifically designed to enhance the functionality of outdoor heating systems. These controls make it easy to adjust temperature settings, set timers, and manage multiple heaters from a single device. Some of the controls available include:
In addition to their high-quality outdoor heating solutions, OLW offers a range of Bromic Accessories that are designed to enhance the functionality and performance of your Bromic Heaters. These accessories include heat deflectors, ceiling poles, and mounting brackets that provide added stability and safety to your heating system.
OLW offers a range of covers to protect your Bromic Heaters from the elements when not in use. With these accessories, you can further customize and optimize your outdoor heating setup, creating a comfortable and enjoyable outdoor living experience.
Experience the Ultimate Comfort With Bromic Outdoor Heating Solutions
OLW offers a range of innovative and high-performance Bromic Outdoor Heating Solutions that are designed to provide the ultimate comfort for your outdoor living spaces. With advanced features and cutting-edge technology, Bromic Heaters offer reliable and efficient heating solutions that ensure your outdoor living space is always comfortable and inviting.
Efficient Heating
Bromic Heaters are engineered with advanced technology, offering efficient and effective heating solutions for your outdoor spaces. With features like ceramic mesh and corrosion-resistant materials, Bromic Heaters deliver consistent and reliable heat output, ensuring your outdoor space is comfortable and enjoyable all year round.
Sleek and Stylish Designs
In addition to their advanced heating technology, Bromic Heaters also boast sleek and stylish designs that seamlessly blend into any outdoor living space. With a variety of sizes and styles available, you can easily find a Bromic Heater that complements your decor and enhances the overall aesthetic of your outdoor living area.


Easy and Convenient Operation
Bromic Heaters come equipped with user-friendly controls that make operation and maintenance simple and convenient. With features like automatic ignition, temperature control, and remote access, you can easily manage and maintain the perfect outdoor heating environment without any hassle or inconvenience.


Our team of home and backyard leisure specialists are here to help you make your house a home.